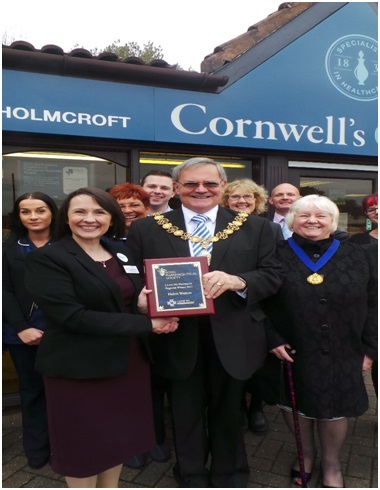 Helen Watton awarded RPS Regional Award by The Worshipful the Mayor of Stafford
Helen Watton, Pharmacy Manager at Cornwell's Chemists, Holmcroft is delighted at being voted a regional winner in the Royal Pharmaceutical Society's 'I Love My Pharmacist' competition.
Established in Stafford for 12 years, Helen, was one of 18 regional finalists from across Great Britain, shortlisted by an expert panel for going above and beyond the call of duty in the name of excellent patient care.
The 18 finalists were put to the public vote for six weeks and Helen has been declared the Midlands and East winner after securing the highest number of votes.
Following on from the success of I Love My Pharmacist 2014 and running for a second year in conjunction with media partner C+D magazine, the national title will now go to one of six regional winners, all of whom have been invited to attend a judging day in London with the I Love My Pharmacist panel.
Britain's pharmacists do much more than the public tends to realise in order to look after their patients. As the unsung heroes of the health service, they work alongside GPs, nurses and hospital staff, providing expert advice and crucial services such as medication reviews and stop smoking services. Now the Royal Pharmaceutical Society, the professional body representing pharmacists across Great Britain, wants to find Britain's best loved pharmacist - the pharmacist who goes the extra mile for his or her local community.
Helen was initially shortlisted due to her and her team's outstanding contribution to the care of their patients. Every day Helen's team give added extras; whether that is delivering urgent medication, support to stop smoking, listening or even counselling, the Holmcroft team are there to help.
Helen was given the honour of attending as a guest speaker at her local Stroke Association club, where she spoke about why a stroke happens, as well as the purpose of patients' medications. In order to help the patients, she created a factsheet containing the basic information to understand the condition. Helen, inspired by this group, is now a supporter of the club and she feels privileged to be part of such a life changing scheme.
Helen said:
"I am delighted to be the winner for the Midlands and East. My patients are my number one priority and I'm really touched and honoured that so many of them have come forward to vote for me. This is a fantastic competition run by the Royal Pharmaceutical Society. So many people don't understand the full range of services that are offered by pharmacists, and I Love My Pharmacist helps to raise awareness of the patient care we deliver every day. We are so much more than dispensers, and it's the quality time that I'm able to spend with my patients that really makes it all worthwhile to me."
"This competition has had a really positive impact on our pharmacy and I am overwhelmed that Jeremy Lefroy MP was able to visit. I had a fantastic time speaking to Mr Lefroy about the competition and my
involvement with the Stroke Association. I'm also amazed at how interested my patients have been in my participation with the I Love My Pharmacist competition, as they have constantly been asking how the competition is going and I cannot wait to see the look on their faces when I tell them I am a regional winner."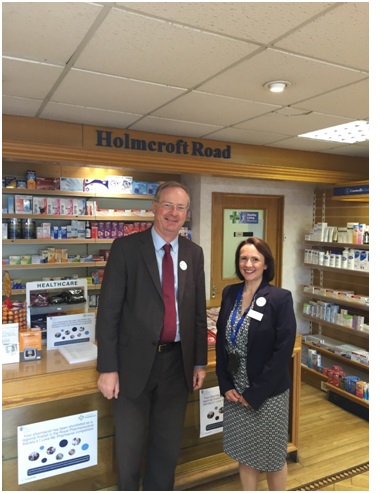 Jeremy Lefroy MP for Stafford visits Helen Watton at Cornwell's Chemists Holmcroft Road Pharmacy.
Geoff Brookes, Chairman of Stafford and District Stroke Club, said:
"Helenand the staff at Holmcroft Pharmacy are so helpful and friendly and nothing is too much trouble. It's a pleasure to come to the pharmacy and Helen always makes time for me.
I would like to offer my sincere congratulations toHelen on this wonderful achievement."
Neal Patel, pharmacist and Head of Corporate Communications at the Royal Pharmaceutical Society said;
"Pharmacists are an integral part of every local health service and all the winners demonstrate dedication above and beyond the call of duty.
"Having access to expert, personalised advice is invaluable; pharmacists also support patients in settings including hospitals and GP practices. We want to celebrate the important role pharmacists' play across the NHS.