A Newcastle-under-Lyne pharmacy, established in 1835, has come to the aid of Caudwell Children to ensure that 25 disabled children, and their families, have the medical accessories that they require ahead of
an once-in-a-lifetimedream holiday to Florida.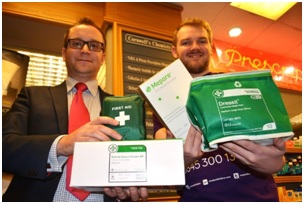 For the second year in successionCornwell's Chemist's,located on High Street in the town, has stepped in to provide us with an array of suppliesincluding:bandages, medication, cotton wool, anti-sickness remedies, pain relief tablets, plasters and more.
The vital accessories, given free of charge by the Staffordshire chemist chain, will enable us to send children withlife limitingand terminal illnesses on our annual Destination Dreams holiday programme, with the knowledge that they have the appropriate medical supplies needed to ensure a safe and enjoyable trip.
Trudi Beswick, Chief Executive of Caudwell Children, was delighted by the support. She said: "This is a fantastic gesture which clearly demonstrates the caring and friendly attitude of the company. Cornwell'sChemist'shas adapted its support to meet the needs of the children that are going to Florida with us, this year, which will ensure that we can cover any eventuality."
DesmondHennelly, from Conwell's Chemist's, was keen to support the trip again. He said: "It's great to be able to play a part in this vital holiday for disabled children and their families. I know that the charity has been worked hard to build relationships with the business and medical community to ensure the best care for all those who participate. It's good to know that our professionalism has once again been recognised."
Trudi concluded: "Cornwell'sChemist'shas been caring for the local community for 179 years and are extremely well respected. It's reassuring to know that they're on board with us again this year. Without the help of the medical and businesscommunitythe trip simply wouldn't go ahead."
For more information and to support the Destination Dreams holiday visit theJust Giving page here.
http://www.caudwellchildren.com/news-and-media/news/destination-dreams/509-long-established-family-pharmacy-help-to-make-disabled-children-s-dream-holiday-come-true